[row] [span4]
Factivation LLC
Factivation LLC began in December 2007. The founder, an Oklahoma classroom teacher, spent several years gathering, creating, and refining techniques that would effectively (and enjoyably) lead students to Multiplication mastery.
Factivation LLC was established after several years of design and classroom testing of its signature product, Factivation!® for Multiplication. Factivation LLC's mission is to simplify both the learning and teaching of Math facts.
The teachers of Factivation LLC believe that mastery of basic Math facts, coupled with a well-developed conceptual understanding of each operation, is crucial to our students' ability to develop not only mathematical competence, but mathematical confidence as well.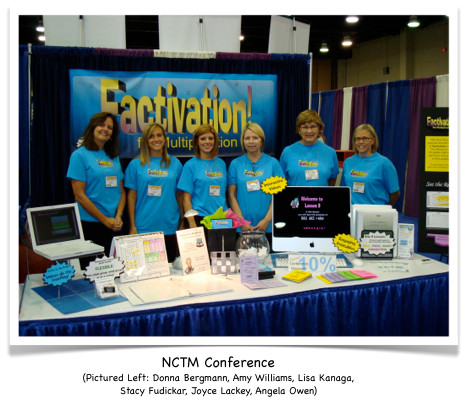 [/span4] [span4]
Lisa Kanaga, Creator
Lisa Kanaga has been an elementary educator for 16 years. During that time, she has taken on various roles as a classroom teacher, Title Math specialist, and instructional coach.
Mrs. Kanaga developed the Factivation!® for Multiplication program after teaching 3rd grade for several years and realizing the difficulties students had with mastering Multiplication facts. After a move to teach 5th grade, the negative impact of non-fluency became very apparent. Mrs. Kanaga was inspired to create a system that would simplify both the learning and teaching of Multiplication facts.
After years of development and testing, Factivation!® has now grown to include Division and Addition facts and is being successfully used in schools and homes across the USA and abroad.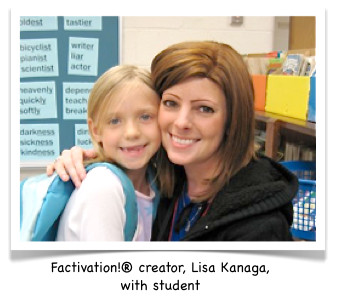 [/span4] [span4]
The Real "Factuary Al"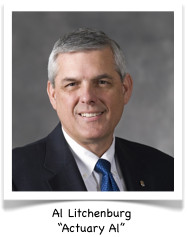 Actuary Al: incredible father, loving grandpa, and favorite uncle (otherwise known as Uncle Al, the Kiddie's Pal) was the first actuary (not factuary) at his company. He earned a master's degree in Mathematics and instilled his love of Math in his daughter, the Factivation!® creator.
[spacer] "Factuary Al" is a loving tribute to a respected and cherished father, Actuary Al.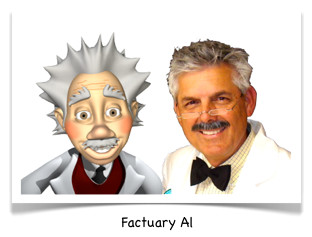 [/span4] [/row] [spacer][spacer] [row] [span4]
Getting "Factivated"
Teachers bring their laptops and come together for a day of hands-on learning at the Factivation!® for Multiplication Workshop. Presenters Lisa Kanaga and Mike Dial are excited to share their success stories and show colleagues how to put the program to use in their own classrooms. Each teacher leaves the training fully equipped, with a year's membership to the website.[spacer]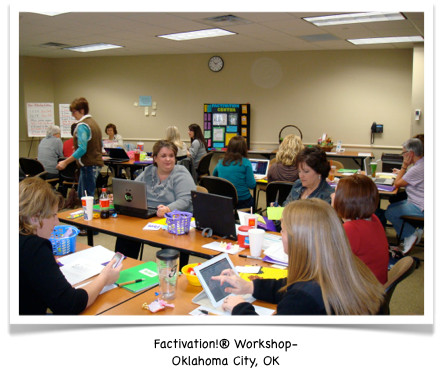 [/span4] [span4]
Why Factivation!®
[service_box title="READY-TO-GO LESSONS" icon="icon5″ text="
Our instructional videos have been optimized for speed and integrated into a state-of-the-art video player that reliably works across all browsers, so your lesson is ready to go when you are!" btn_size="normal" target="_self" custom_class="advantages no-border"] [service_box title="NO MORE TIMES TABLES!!!!" icon="icon6″ text="Forget intimidating times tables! Factivation's brain-friendly method introduces small fact groups based on strategy." btn_size="normal" target="_self" custom_class="advantages"] [service_box title="STUDENT-APPROVED" icon="icon7″ text="High energy music, engaging instruction, fun chants, and interactive games are just a few of students' favorite features." btn_size="normal" target="_self" custom_class="advantages"] [/span4] [span3]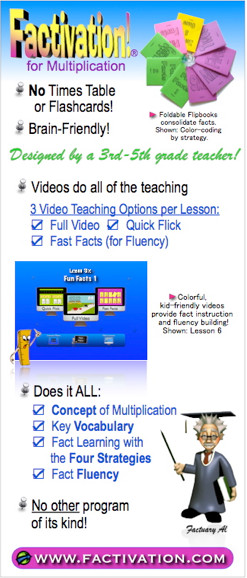 [/span3] [/row]