Lesson 6 INFO:

Title: "FUN FACTS 1"
Fact Strategy: CHANT
Focus Facts: 7x6, 3x4, 7x8


YOUR MISSION: Use the chants from this lesson to master the "Fun Facts 1" facts and their commutative counterparts!


Instructional Strategy Videos
Learn the EASY WAY to remember 7X6, 3X4, and 7X8!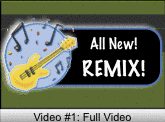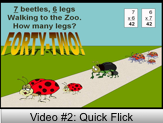 Fluency-Building Videos
Watch with a friend-Who can say the products first?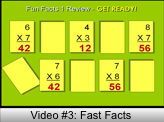 Division Video- Lesson 6
Multiplication and Division go together! Watch the video below and play the Divison games (bottom right) once you've mastered the Multiplication facts!





Create your own flipbook!
*Print Flipbook (Front)
*Print Flipbook (Inside)
*Watch Folding Flipbooks Video

Race Yourself or a Partner!
* Print Fluency Builder
* Watch Fluency Builder Video



Test Your Skills!
*Print Practice Test