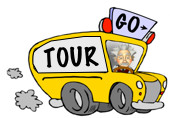 Looking for a complete solution that ensures fact fluency?
✔ You've found it!
Your tour includes the following stops:
Tour Instructional Videos
Welcome teachers, principals, and parents! We're glad you're here and are excited to show you how to ensure fact fluency while providing meaningful COMPLETE fact instruction.  We'll start by discussing an exciting component of the Factivation!® program: the Instructional Videos. Several video options, each with a specific objective, accompany each Factivation!® lesson:
Accuracy Building– Full Video & Quick Flick
Fluency Building– Fast Facts Video
Application/Extension– Reciprocal Operation Video (Subtraction or Division)
Reaching Today's Digital Learners: Instructional Videos that ROCK!
At the heart of every Factivation!® lesson are the instructional videos, like the one below. Each video (and lesson) introduces students to a small group of new facts with a simple-to-use strategy. The commutative property is emphasized and previously learned facts are continuously reviewed.
Factivation!® lessons keep students motivated and interested in their learning through the use of catchy, uptempo music and colorful visual effects. Each of our Addition lessons for younger students features a different kid-friendly theme, like Under the Sea, At the Movies, On the Farm, etc. Want to see our complete 100+ video collection? Check out our Math fact Video Libraries!